When one thinks of knights, it's likely that spaghetti sauce on shining armor is not what first comes to mind. There is a unique museum here in Florence that may cause you to think again.
In truth, Italy was always part of that restlessness that is the human condition. Conflicting cultures and ambitious men (and not a few women) trod the well-worn roads that all led to Rome and right back out.
Florence, by virtue of mountain passes and a fordable river, was in fact one of those places that acted as a regulating valve along this conduit of historical events. And if it could regulate the flow of armies, so too could it capitalize on the flow of commerce. Actually, Florence became so prosperous that, rather than bother with the messiness of having a standing army just, well, standing around, it could simply hire one as the needs arose. That is a tale for another time. Let us return to this little Knight-time story at hand.
In 1859, 21 year old Frederick Stibbert inherited his family's rather vast fortune. Clearly one of his passions was medieval armor. The results of his next half century of collecting can be seen in his villa in the northern slopes of Florence. As with any collecting addict, he kept expanding his home to accommodate. 55 rooms and nearly a quarter mile of road frontage later, the current museum took shape, not to mention the multi acre backyard formal garden. Here is but a glimpse of the private entrance in the back.
But it is what is inside that goes from astounding to out and out mind boggling.
See that very life-looking guy in the bottom right? Here is another view of him, just to give you some sense of scale of his entourage.
Those are full-sized horses, and I mean full-sized. They would have had to be to carry the weight of their fully-armored rider plus their own not so little armor plating themselves. Keep in mind, this is but one room out of many! There is so much hammered metal armor and sharpened spears, that there becomes the sense of walking through an ancient wrecking and salvage yard. I mean, just look at all this stuff neatly piled along the corridors.
Well, this is but a glimpse, a little behind the scenes look at one of the many smaller museums so seldom seen by those who understandably throng the Uffici and Academia.
http://www.museostibbert.it/en
Do keep in mind the facilities are available for weddings…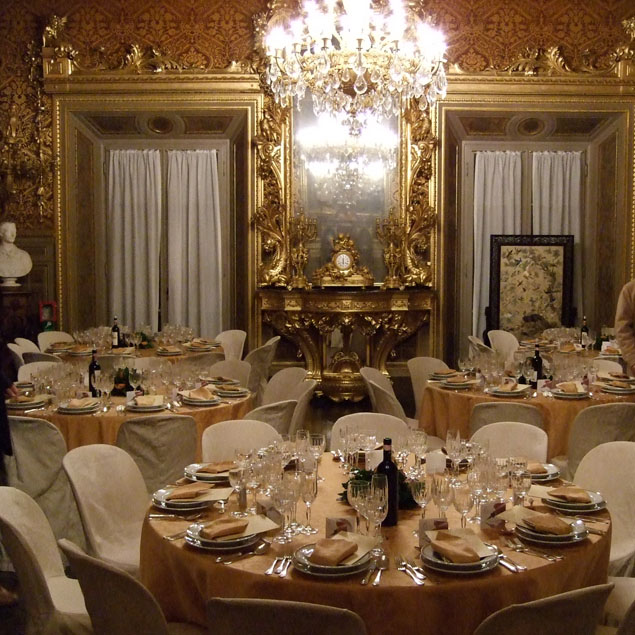 …and Bar Mitzvahs.
Black tie and mail, optional.